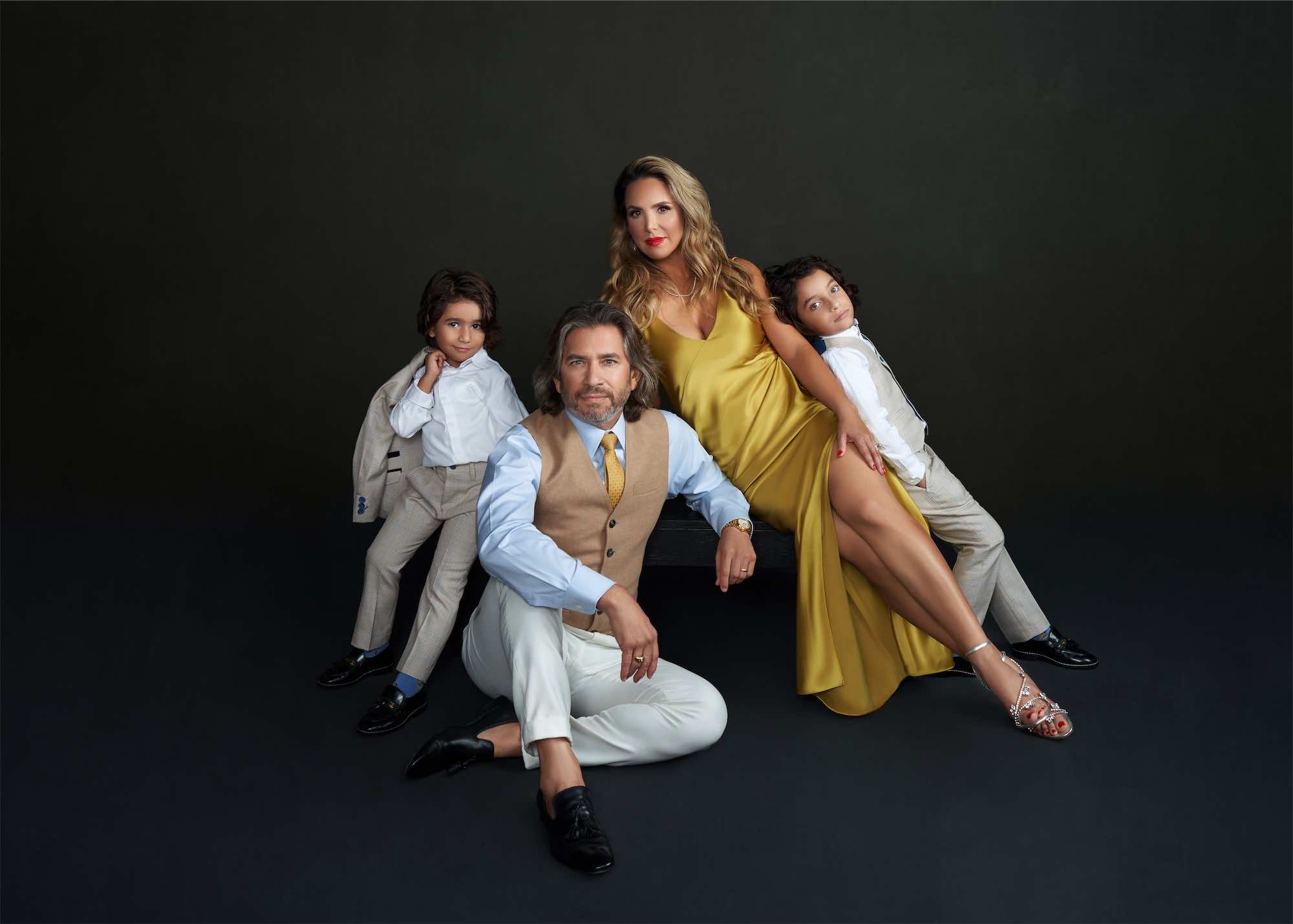 Family portrait photography is vital for many reasons, both practical and emotional. Here are some key reasons why family portrait photography is important for your family:
Capturing Memories: Family portrait photography allows you to capture memories of your family at a specific time. As your family grows, it's important to have a visual record of the people you love and the experiences you share. BD Photography strives to provide you and your family with a comfortable space in our studio to ensure your session is a fun experience! We always have drinks and snacks to ensure everyone is in their best spirits!
Preserving Family History: Family portraits can also be a visual record of your family's history. They can be passed down from generation to generation, helping to preserve your family's legacy and providing a tangible link to your ancestors. The ultimate representation of portrait photography is print wall art pieces. For this reason, we only offer the best quality prints available. Our printed photos meet the standards of fine art museums and the library of congress. Our prints will last over 200 years without fading or yellowing by only utilizing archival-quality paper and pigment inks.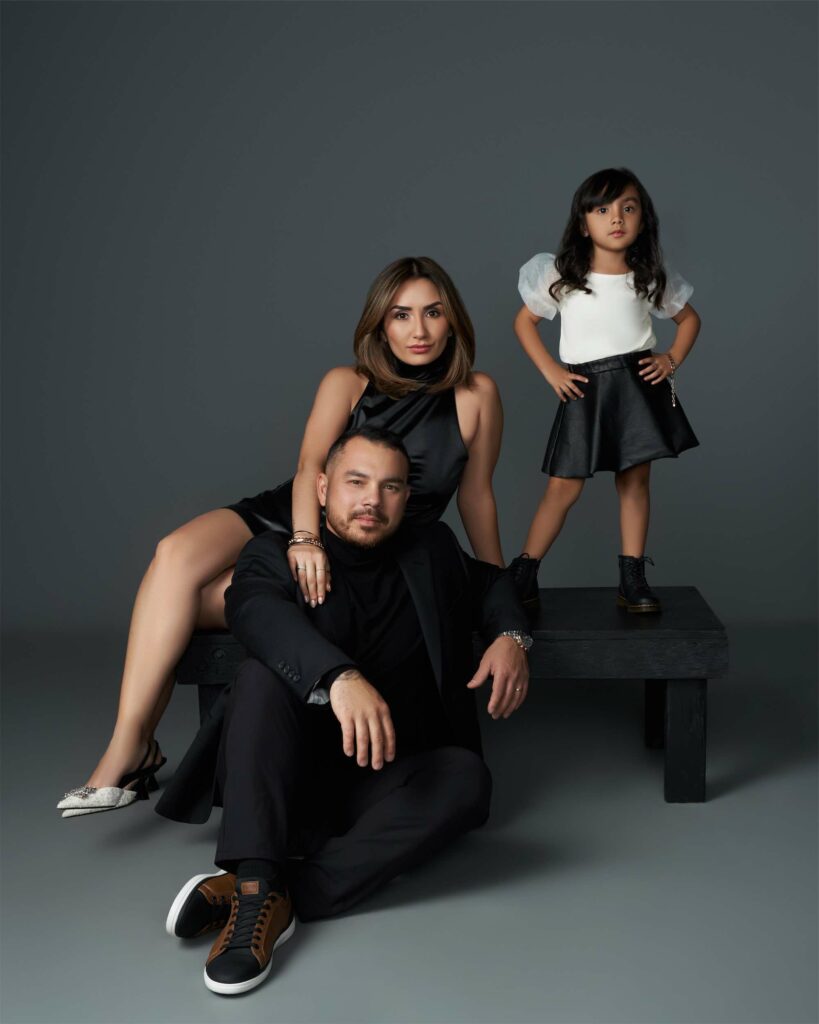 Strengthening Family Bonds: Taking family portraits can be a fun bonding experience for everyone involved. It provides an opportunity for family members to come together, create memories, and share in the background of having their photos taken together. Planning for a family shoot can sometimes seem overwhelming. At BD Photography, we will help you plan and schedule every aspect of the shoot, from hair make-up to wardrobe! Your Experience at BD Photography is, by design, a stress-free experience!
Celebrating Milestones: Family portraits are a great way to mark important milestones such as graduations, weddings, or other significant life events. They can serve as a reminder of these special moments and provide a way to celebrate and remember them for years. At our
Building Self-Esteem: Family portraits can also be a confidence booster for children and teenagers, helping them to feel valued and loved. It can also help to develop their self-esteem and create a sense of belonging within the family unit.
In conclusion, family portrait photography is important because it allows you to capture and preserve memories, celebrate milestones, strengthen family bonds, and build self-esteem. It is a way to document the history and legacy of your family and create a tangible link to your ancestors. So, if you haven't already, consider scheduling a family portrait session to capture the memories and love shared within your family.
Contact us today to learn how we can help capture beautiful, timeless family portraits!
BD Photography
8 S 5th St
McAllen, Texas 78504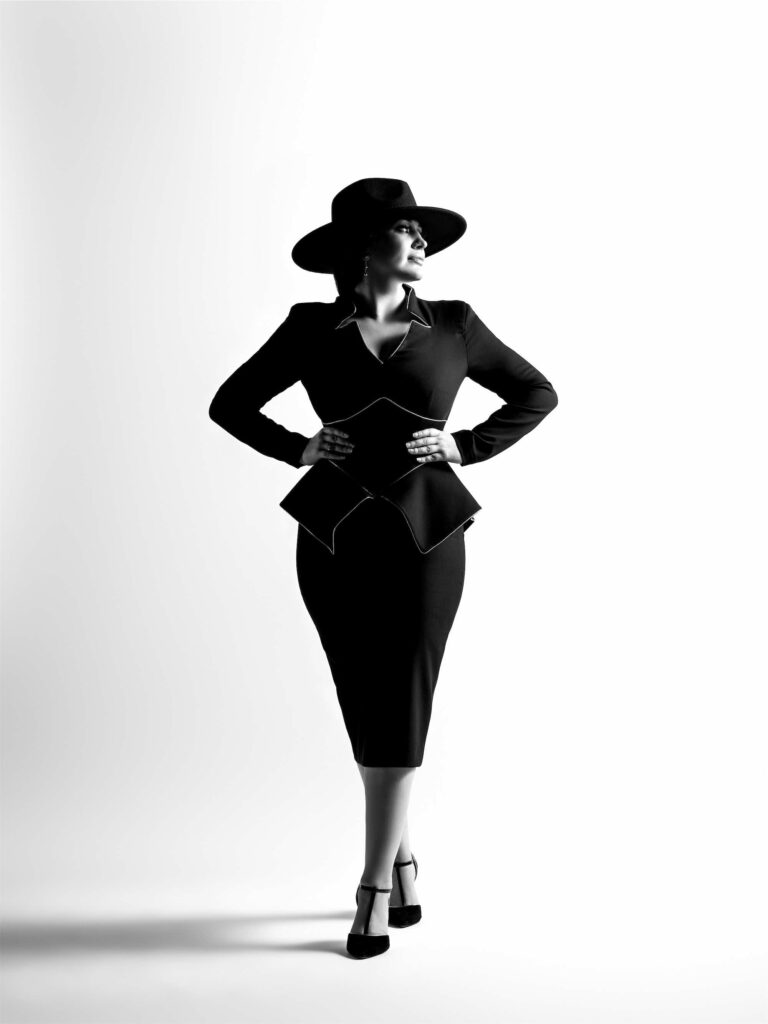 In today's competitive job market, having a solid personal brand is vital to stand out from the crowd. One essential element of a personal brand is a professional headshot photograph. A well-crafted headshot can convey confidence, professionalism, and approachability, making a lasting first impression on potential employers and clients.
But why are branding and headshot photography so important to advance your career? Let's explore some of the key reasons.
First and foremost, a personal brand helps to differentiate yourself from others in your field. Your brand should showcase your unique skills, experience, and personality. A professional headshot can reinforce this branding by visually communicating your brand to potential employers and clients.
Secondly, a strong personal brand can help you build trust with your audience. Trust is essential in any professional relationship, and a consistent brand image can help you establish credibility and reliability. A professional headshot can convey that you take your career seriously and are vested in presenting yourself professionally.
Thirdly, a personal brand can help you showcase your expertise and establish yourself as a leader in your field. Branding photography will increase your visibility, networking opportunities, and career advancement. A professional headshot can help communicate your authority and expertise, positioning you as a leader in your industry.
Finally, a personal brand and professional headshot can help you stay top-of-mind with potential employers and clients. A strong brand can help you stay visible and memorable, giving you an edge to be considered for future opportunities.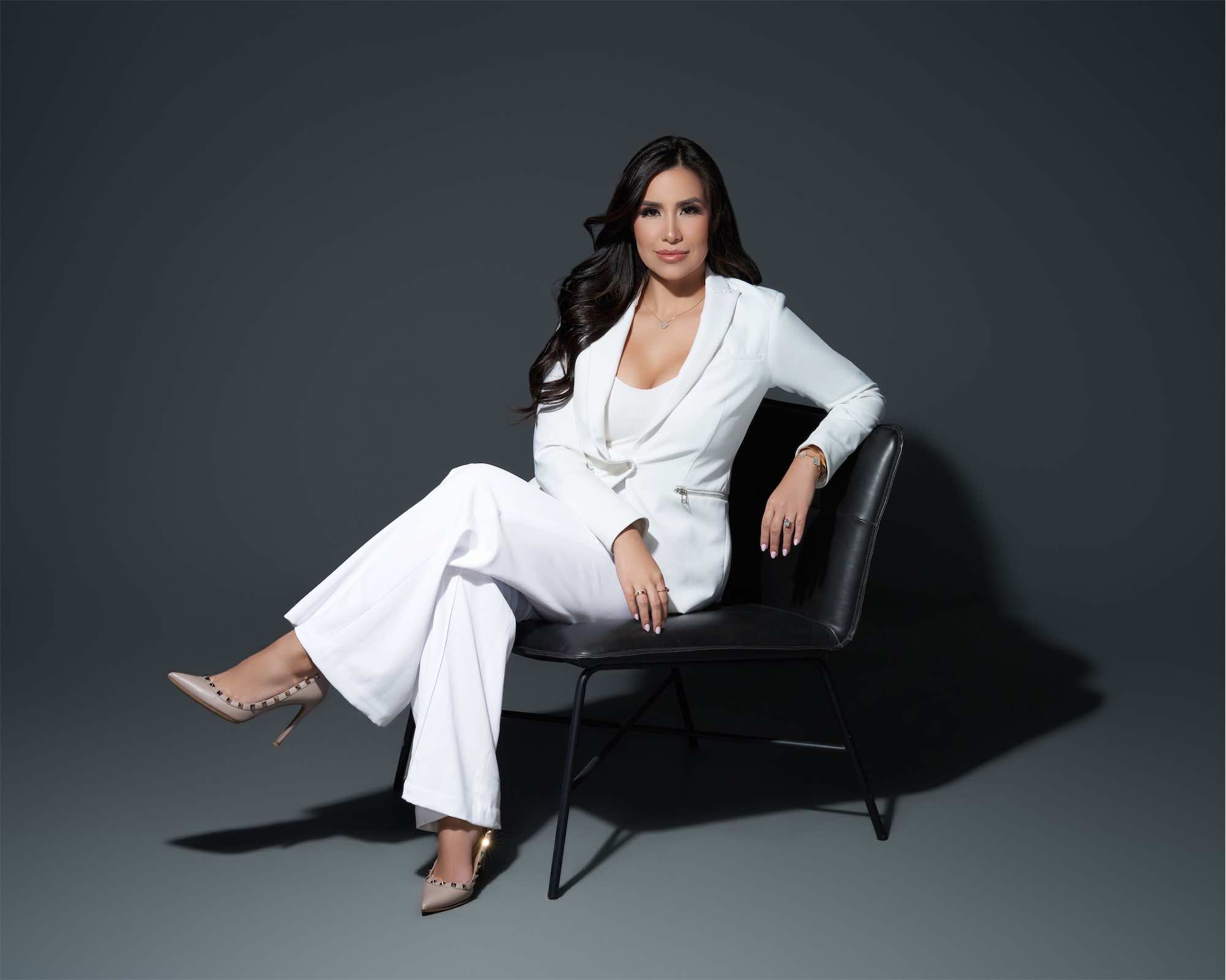 In conclusion, branding and professional headshot photography are essential elements for advancing your career. By creating a strong personal brand and presenting yourself professionally, you can differentiate yourself from others in your field, build trust with your audience, establish yourself as a thought leader, and increase your visibility and opportunities for career advancement.
So, if you're serious about advancing your career, it's time to invest in your personal brand and professional headshot photography. With the proper branding and image, you can position yourself for success and take your career to the next level.
Contact us today to learn how we can help capture your brand!
BD Photography
8 S 5th St
McAllen, Texas 78504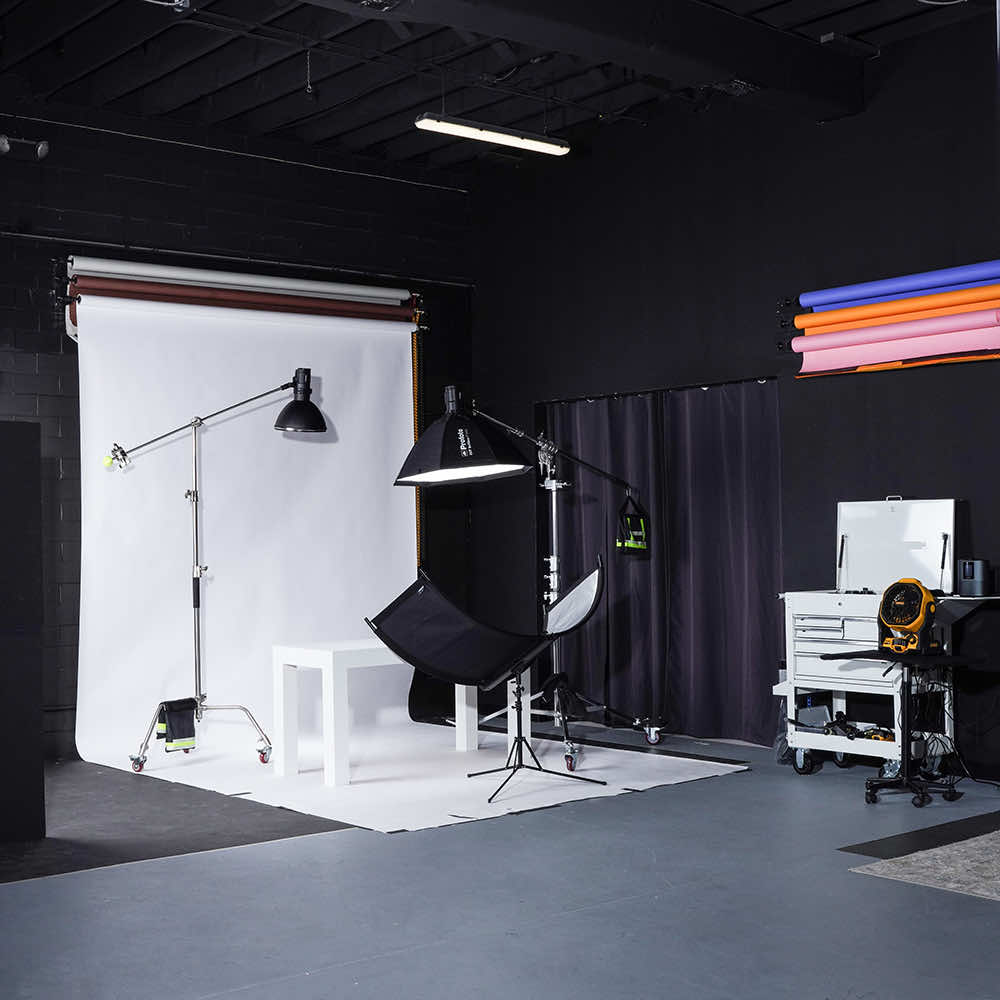 Are you looking for the best photography experience in Texas? Look no further than our team at BD Photography in McAllen, Texas. We pride ourselves on providing top-notch, professional photography services that capture your unique personality and vision.
Here are a few reasons we offer the best photography experience in Texas.
Professionalism:
Our team comprises professional photographers, digital creators, and business professionals who are skilled and passionate about their work and the experience we provide each of our clients. We take pride in all aspects of our work, from planning for the session to capturing the perfect shot, editing the final photos, and delivering the final vision for your images.
Quality:
We don't cut corners when it comes to quality. We use top professional cameras and lighting to the editing software and the finest printed products in the industry to date. We invest in the best tools, equipment, and training to ensure that the final product and experience exceed your expectations.
Experience:
With over 30 cumulative years of professional experience, we know what it takes to plan for each session and capture the perfect shot. Our process allows us to understand your goals and vision for your photography session, address any concerns, and plan the perfect session! We've worked with a diverse range of clients and situations, which means we can tackle anything that comes our way.
Personalization:
We understand that everyone's vision is different, so we take the time to get to know our clients and their needs. During your first visit or studio tour, we take the time to understand your goals for the shoot. We work with you to create a personalized photography experience that captures your unique style and personality with a clear vision.
Flexibility:
Whether you're looking for a one-time photo shoot or regular photography services, we're here to make it happen. Usually, our calendar is booked a couple of weeks in advance, but we will work with your calendar to schedule your session. We can always accommodate simple last-minute sessions, such as a headshot; just call us.
Customer Service:
We value our clients and are committed to providing exceptional customer service. We strive to make every aspect of the photography experience enjoyable from start to finish. We have honed our process for years to ensure we understand and capture our client's vision for the images.
When it comes to capturing memories through professional photography, there's no better choice than our team at BD Photography.
Contact us today to learn how we can help capture your next big moment.
BD Photography
8 S 5th St
McAllen, Texas 78504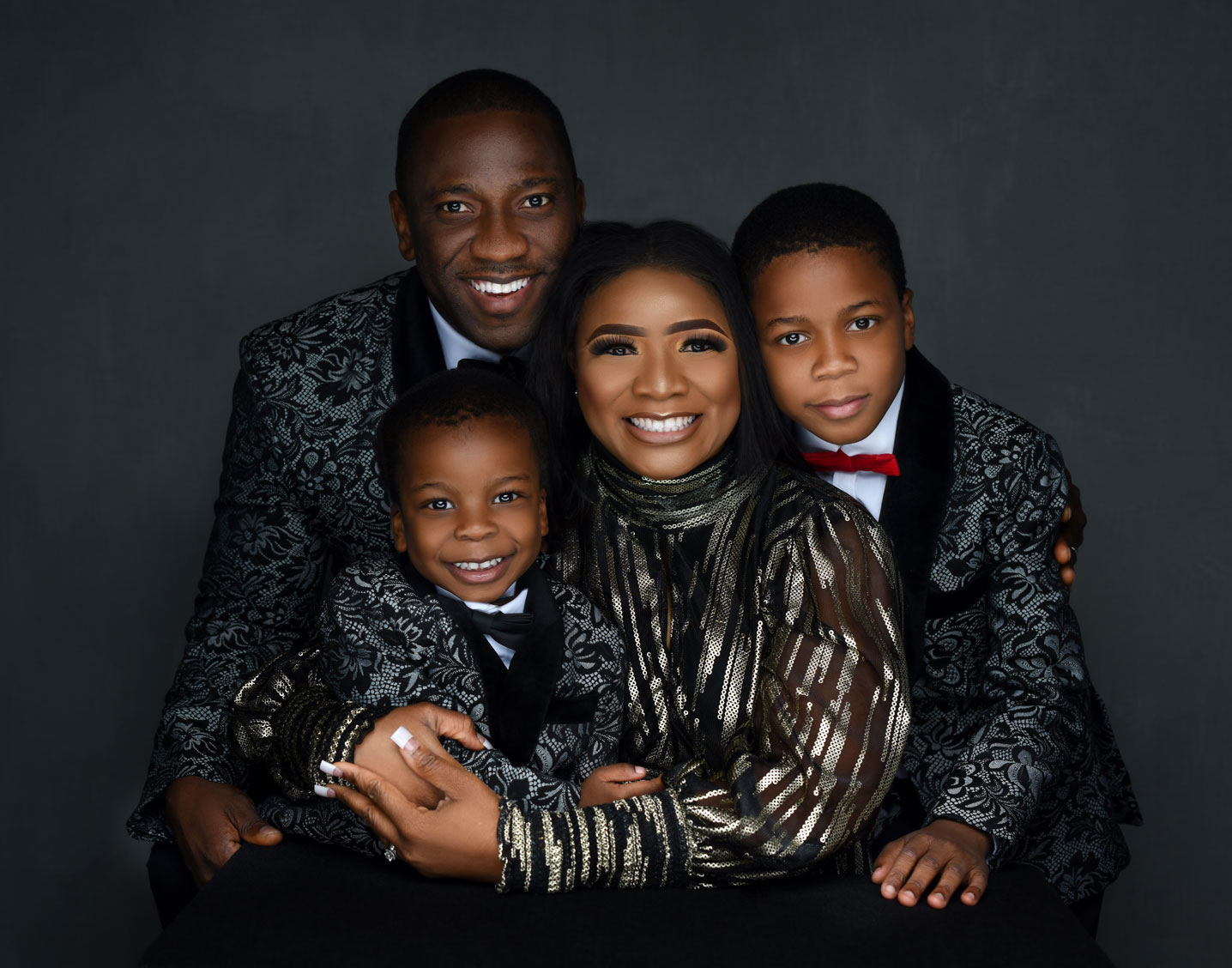 The most wonderful time of the year is upon us and now is the time to capture your family and make lasting memories with a Christmas portrait session. And we know just the perfect place to go – not to be biased, but you and your family will be in good hands this holiday season when you take your photographs with us at BD Photography in McAllen!
With input from our talented photographer, Barbara Delgado, your family will receive the most beautiful portraits this holiday. We want you to share this season's memories with your loved ones and we have prepared beautiful keepsakes for you such as reveal boxes and luxury holiday cards that will wow your friends and family.
Here are two ways to appreciate your holiday family portraits:
Luxury Holiday Cards
Personalized holiday designs on elegant soft-touch foil-pressed paper
Reveal Boxes
The elegant reveal box is a unique way to display and preserve your gorgeous holiday photographs
Our team of experts prepares all our clients to help them look picture-perfect from hair and make-up to styling to make your holiday portrait session camera ready! We produce stunning images that will be cherished forever.
You will be looking and feeling your best and with all smiles, our expert photographer will capture the very best holiday memories for your amazing family to keep a lifetime. Celebrate this holiday and let's create a magical holiday portrait session that is authentic and unique.
Visit our McAllen location and let us tell your family's story in photographs this holiday season! Book a tour at our McAllen studio today and get to know the team as we guide you through the process. Let's start planning your holiday portrait session early to avoid the holiday rush. Limited spaces are available. We can't wait to see you here!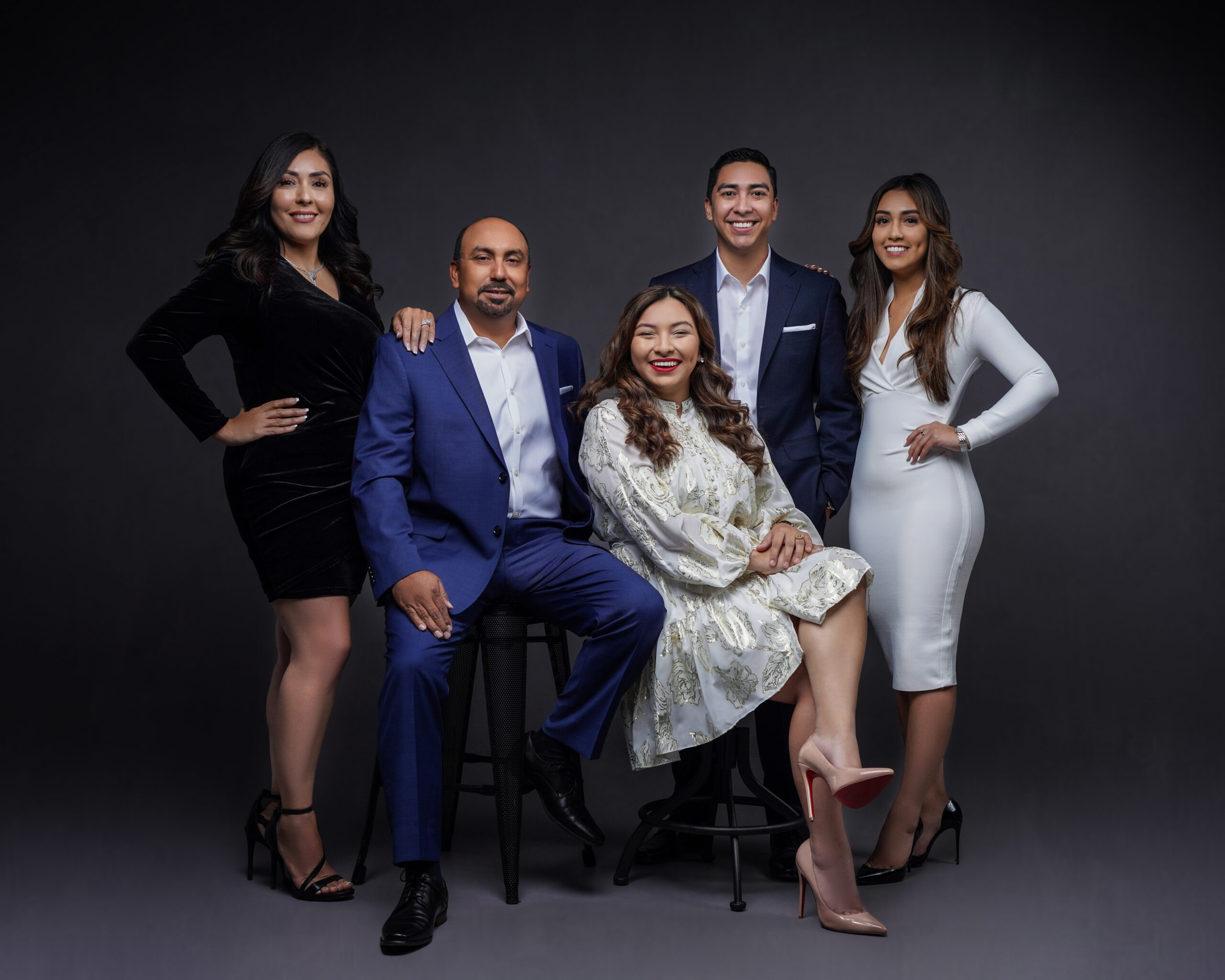 A family portrait session captures moments of your family's lives for generations to come. Everything from wardrobe, lighting, backdrops, and finding the right poses, brings the entire photo together, making it portrait-ready.
We want to ensure that our clients are happy with the final results. The following are four poses we have put together for your consideration. Ideas included bring the photograph together, make it a memorable experience, and capture flattering poses, expressions, and your family's unique character.
Four family portraits poses
Classic
Editorial
Candid/Natural
Headshot
Classic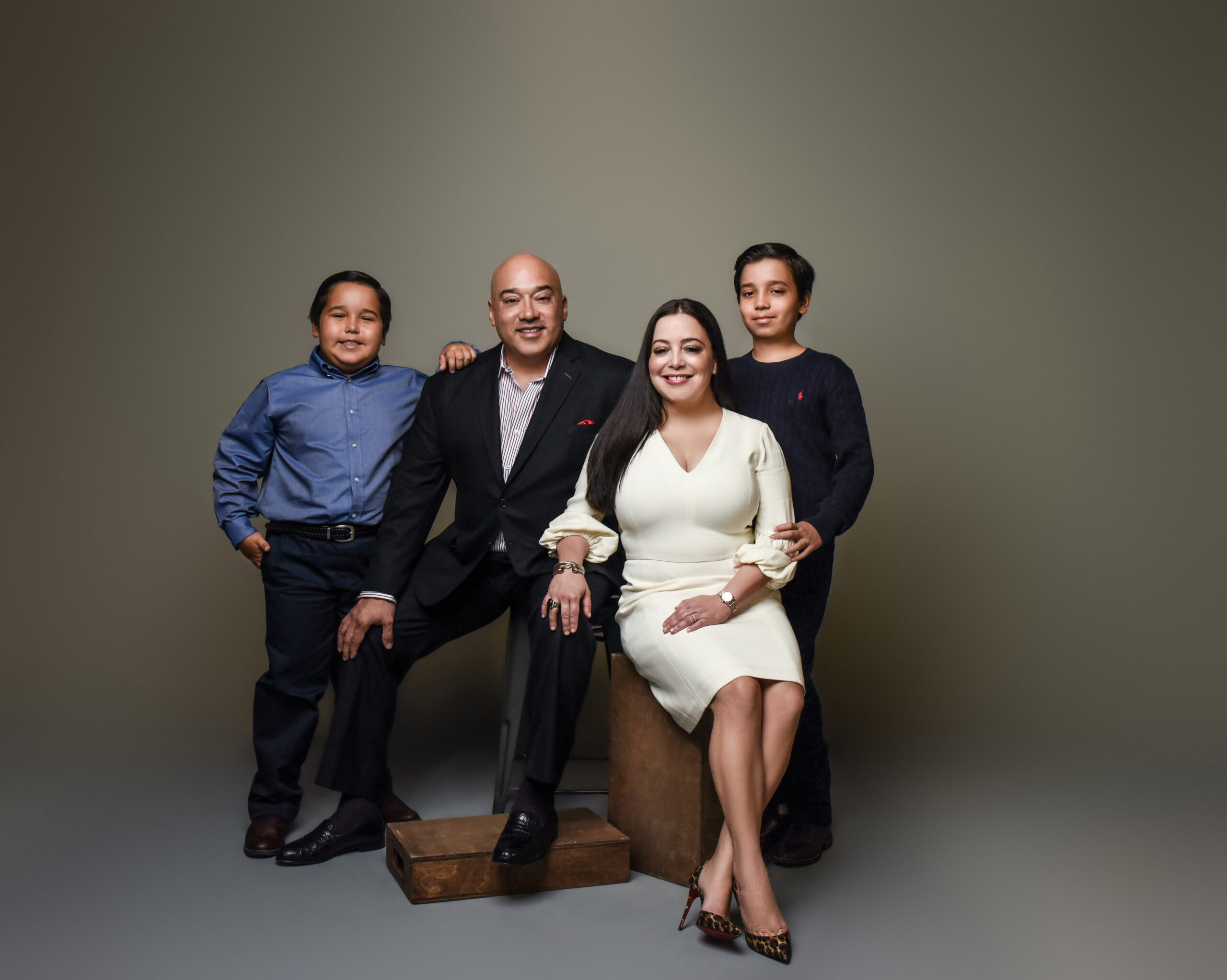 Let's begin with the more traditional pose that is most common with family sessions. The classic pose where everyone in the photo is engaged and fresh-faced. Families tend to gravitate towards this one, it's easy to capture and can also be a pose that we can have some fun with by mixing things up a bit.
Commonly, connections are created in any pose and photograph that is captured. Whether it's creating symmetry, triangles, touchpoints, we aim to create balance and stability to the portrait. These connections can be made by having family members look towards each other, hold hands, or place their hands on shoulders.
Editorial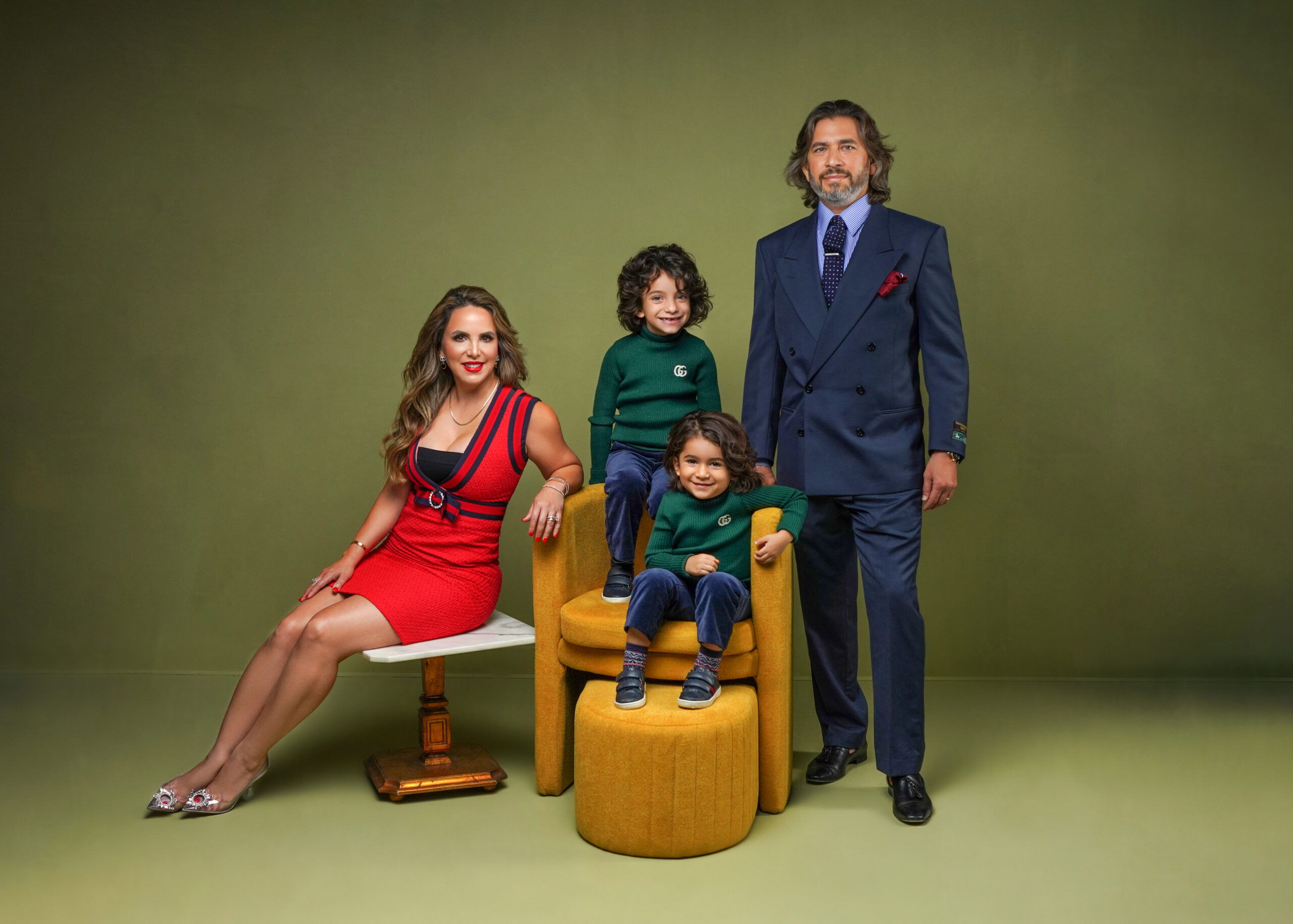 These poses tend to have a more stoic and dramatic feel to them. Lighting is key and posing here is carefully constructed to ensure that family members aren't mirroring one another's poses.
Expressions are important for this pose and we encourage a range of poses delivered from family members. When executed correctly, an editorial pose will feel dramatic and eye-catching.
Candid/Natural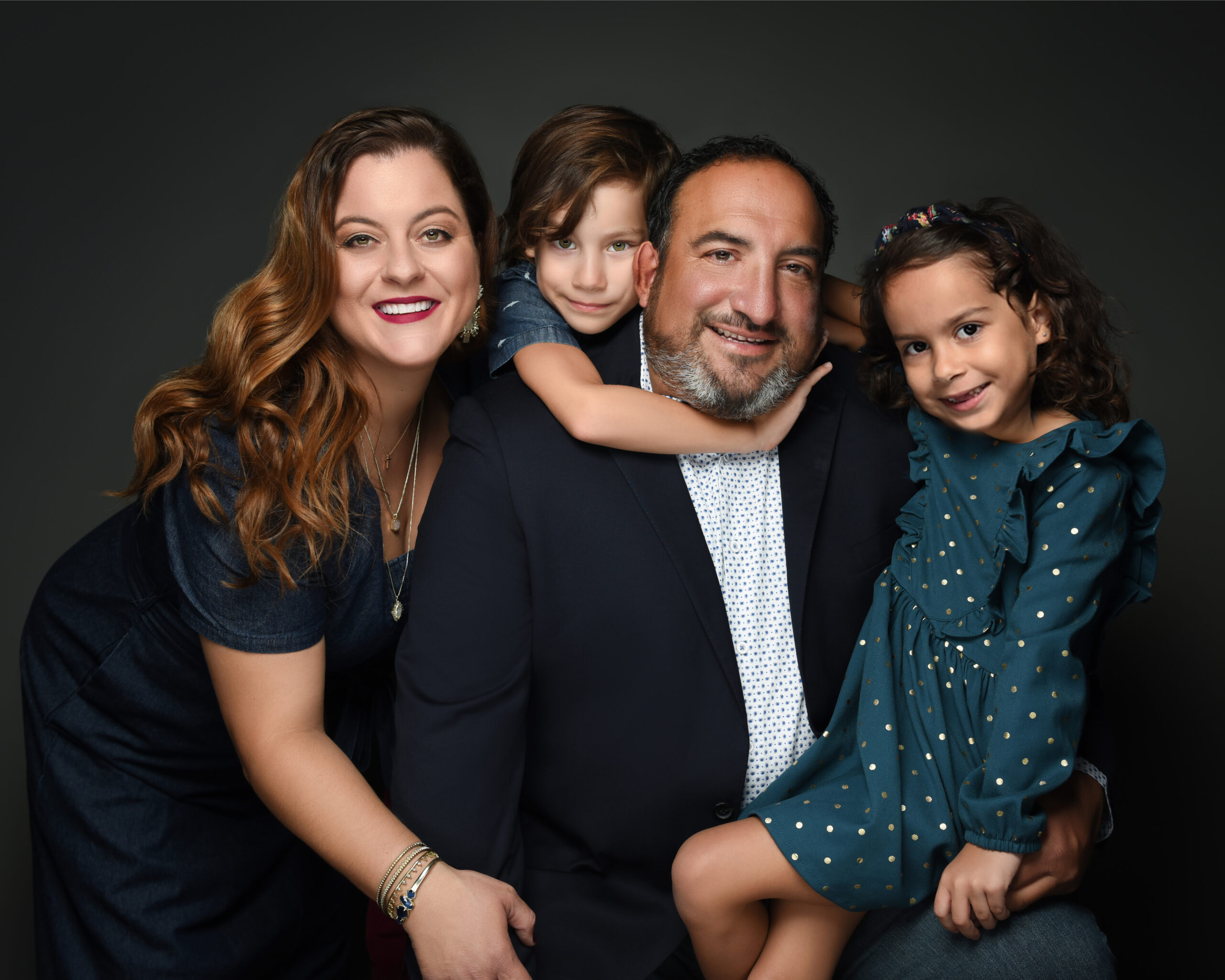 Candid photos offer a different dynamic that shows off your family's vibrant energy. Adding some motion like casually walking and smiling, children playing while the parents are posed, or having a parent lift their child up in the air, all these actions capture your family in their natural element. It's okay to let kids be kids and let them feel in their element. At times, these candid shots bring out the most natural and bright smiles from your family.
Headshots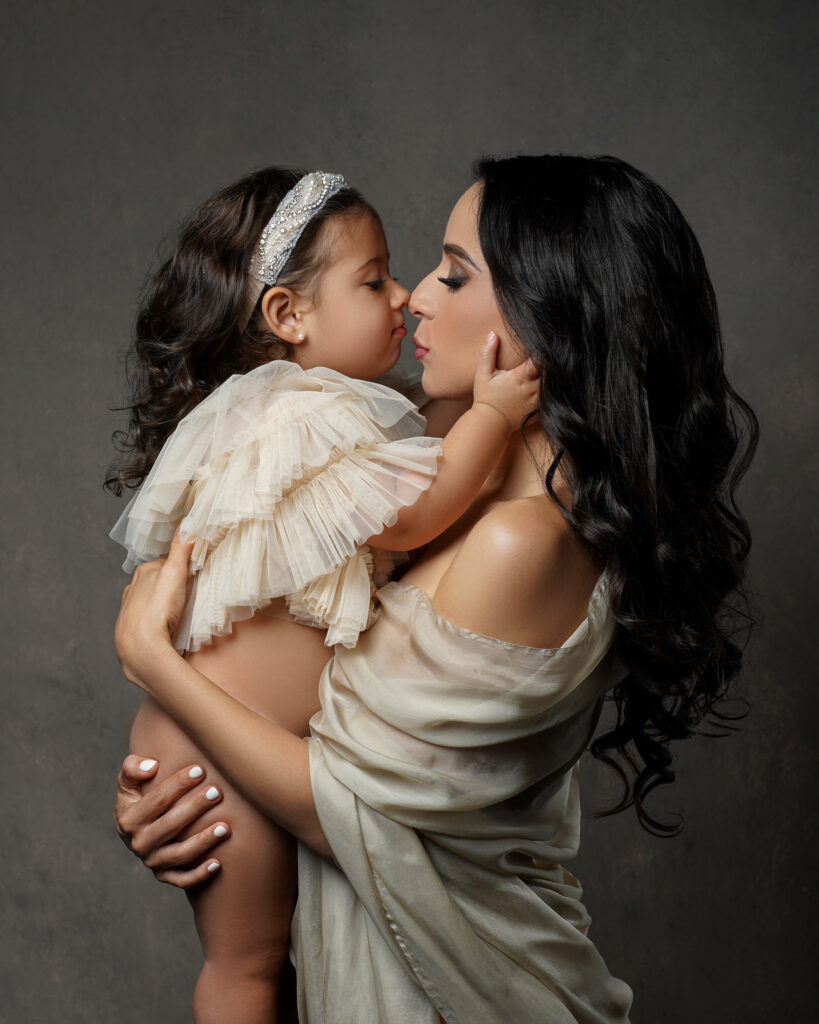 A headshot can be posed in many ways and typically they are taken from the shoulders and up, but there are many variants to that pose that can bring out your personality. And keep in mind, while headshots are often associated with branding and business (we'll get to that in another blog), a headshot of a family member like dad, mom, or children helps to create a beautiful portrait.
We encourage our clients to be relaxed. Creativity takes a headshot a long way ease any anxiety of having your headshot taken.
That's a wrap
Keep in mind that no matter how a family session unfolds, keep a positive attitude and remember that we are creating memories and portraits that will last a lifetime. These images are crafted with thought and consideration from the moment we meet with you at our McAllen studio, to the moment we show you the finished products. We want your experience to be a memorable one and we want to capture it for you!
Here at BD Photography, we develop thousands of images per week, downloading, sorting, culling, correcting, cropping, enhancing, and final quality control before presenting our clients with their perfectly crafted images. We always wonder, "How will our clients experience these images over time?"
Thanks to social media platforms and fantastic cellphone cameras, we are overflooded with photos—usually, these photos are taken with a cellphone, often with a smudged lens and bad lighting. However, today's cells do a great job compensating by using filters and editing tools. Don't get us wrong, we love social media and use our phone's camera a lot, but nothing draws more attention than a professionally captured image.
We love to see our clients share their BD Photography images on social media platforms. Not only does it tell us that they loved their photos, but without fail, a carefully crafted professional photo will receive more likes and views than any cell phone counterpart. And sure, that digital image will live in your profile "forever" (or at least until you unsubscribe or get hacked), but once the posted image stops "trending," it just becomes a memory, old news, never really admired again. A premium or archival quality print will outlive and outperform a digital image on any social media platform.
When you print your photograph, they come to life. Printing your photos gives them a physical body to be displayed in your home or office. Our premium and archival quality prints produce a level of depth that's unattainable on a digital screen and is ultimately satisfying to admire every time.
At BD Photography, we have carefully matched our photo papers to deliver our clients' best possible prints. We only use top-quality photo and archival papers for our clients, providing the best possible fine art printing quality. Our prints' quality allows for images to not fade or yellow, under the right conditions, for over 100 years, making them tangible heirlooms to give to relatives and or future generations.
So, consider printing and framing some of those beautiful portraits from your last session. We would love to have your images professionally printed for you and admired for generations to come.